Rumours of an initiation might be true...
We have been a part of the Norwich, CT arts scene since 1983.
You will see our slate of upcoming productions, as well as a portfolio of our past.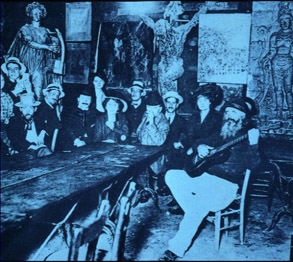 Auditions for Chelsea Players' upcoming production, the comedy DON'T TALK TO THE ACTORS, will be held on Wednesday, August 26 and Thursday, August 27 at 7 pm in the United Congregational Church Hall.

The play concerns a young couple, Jerry and Arlene, who have moved from Buffalo to New York City because a play that Jerry has written has been optioned to Broadway. Producers have signed two veteran TV sitcom stars to star in the play, but it turns out that they have far more ego than talent. FAR more ego!

There are roles for 3 men and 3 women, ages from middle twenties to upper sixties.

Don and Kathy Dykes will be directing the play, and Ken Lamothe will be producing. The play is scheduled for the first two weekends in December.

Auditions will be readings from the script, no headshot is necessary.

If you have any questions, please call the director, Kathy, at 860-848-0533 or email her at katherinedykes@yahoo.com or email the producer, Ken, at klamothe37@gmail.com



Our coffeehouse has been graced by Gordon Bok, Chuck Brodsky, Celticity, the Clams, DogBite, Robbie Fulks, Dayna Kurtz, Molasses Creek, Tom Russell, and Greg Trooper.