The Chelsea Players presented its most recent cabaret, LIVE AT THE STAGE DOOR CANTEEN, July 30 at Prime 82 and August 3 at the Beth Jacob Synagogue. The production featured songs from the World War II home front.

The show had a cast of nine women, veterans of previous Chelsea Players productions and community theater throughout Eastern Connecticut. Faye Ringel was musical director, and accompanied the troupe with Roz Etra.

Over twenty songs of the World War II era, which was also the Golden Age of the Big Bands, were featured.

Uniting the songs is a narrative of the important roles women played during World War II, from the home to the factory to the armed forces. Faye Ringel co-wrote the show with Diane (Gross) Gavidia, a Chelsea Players founder. It was first performed in 1999-2000 at a reception for the Tall Ships' captains at UConn Avery Point.

Just like the real Stage Door Canteen run during World War II by the American Theater Wing, refreshments were served.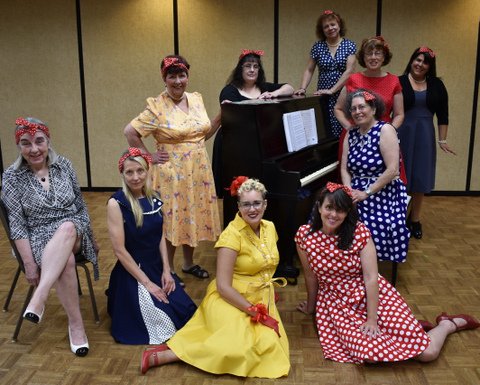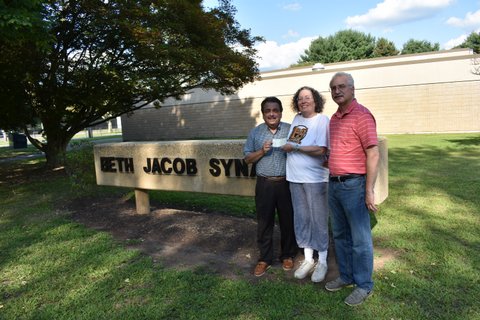 Chelsea Players' donated the proceeds of the August 3 performance to Beth
Jacob Synagogue. Left to Right: Al Ruditzky, event chair and Synagogue Vice President; Faye Ringel, Producer and Director of the show; Michael Seroussi,
President of Beth Jacob Synagogue. Photo by Joel Etra